The PZInz.322
A simple 2 wheel drive tractor. Only 3 were built prior to the outbreak of WW2.
---

PZInz.342
---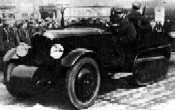 P.19
Citroen-Kegresse P.19 Half Track towing a 75 mm Schneider gun.
---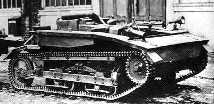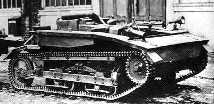 C2P
The C2P was designed to tow a 75 mm gun for light artillery units. Once in the service with the army though, it was mainly used to tow the Bofors 40 mm wz.36 anti-aircraft gun. This tankette was based on Polish TK tankette.

---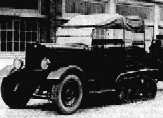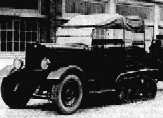 The C4P Half Track
---



C7P
The chassis was based on the 7TP light tank.
---

Peugeot
In 1920, Poland bought 20 armored cars made by Peugeot. They were modified and improved versions of Peugeot armored car model 1918. Though obsolete, all units were successfully used during Polish - Soviet war in 1920. In 1939 some were stationed in Katowice (Silesia). On September 1, 1939, several units were used in the fighting around the suburbs of Chorzow. One was destroyed while trying to recapture a coal mine in Michalowice.

---

Samochód Pancerny Ford Tfc (Ford Tfc Armored Car)
Sometimes called Ford FT-B. A project in 1920 to design a home grown Polish made armored car based on the Ford Model "T" was made by Eng. Tadeusz Tanski and Gerlach and Pulst in Warsaw manufactured vehicles. Production between June and September 1920 encompassed 17 or 18 cars. 8 Ford Tfc's formed 1 Kolumna Samochodów Pancernych (1 Armoured Cars Column) and was involved in Battle of Warsaw (August 1920) and raid on Kowel (September 1920), besides other smaller battles.
Specifications

| | |
| --- | --- |
| Crew | 2 |
| Weight | 1.2 tons |
| Length | 3.25 meters |
| Width | 1.55 meters |
| Height | 1.73 meters |
| Armor | 8mm |
| Armament | 1 x MG |
---


wz.29
14 armored cars designated wz.29 Ursus were produced in 1929. All 14 were placed in the Mazovian Cavalry Brigade and saw combat against Germany.

---

wz.28
The wz.28 was a design was based on the French Citroen Kagresse P.10, 130 were produced.
---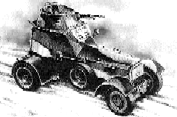 The wz.34's design was based on wz.28.
The most popular armored car in the pre-war Polish Army was the Type 34. The car equipped armored battalions until just before the start of the Second World War when they were reorganized into independent armored squadrons. During the Polish campaign, these cars did see some combat, they were; however, obsolete and worn out and their use was limited. The Type 34 was based on the earlier Type 28 and between 1934-37, some ninety Type 28's were converted to the Type 34 configuration. The Type 34 was constructed of steel sheets, rolled and hardened. The interior of the car was divided into a combat compartment, engine compartment, and a turret. A major weakness of the design was the floor, which was made of wood and unarmored.
Specifications
Weight
4400 lbs
Crew
2
Speed
31-34 mph
Range
155 miles on road
56 miles off road.
---

Kubus
Kubus was built during the German occupation and saw service in the Warsaw Uprising.
---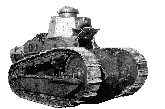 Renault FT-17
The Polish Army had 174 Renault tanks, 102 were serviceable at he outbreak of WW2. The Renault FT came in 4 variations: 8 mm Hotchkis machine gun, 37 mm Puteaux gun, 75 mm Schneider howitzer, TSF with radio.

---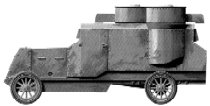 Austin-Putilov
The Austin-Putilov was a British design, though mostly produced and used in Russia. The Russians took the basic chassis (that was all that could be supplied by the over stretched Britsh production lines) and modified it considerably to cope with the harsh Russian conditions. Inprovements included later replacing the rear wheels with tracks and adding additional armor and rear steering. Both in terms of numbers and performance, the Austin-Putilov was the most important armored car the Russians possessed during WW1. Many saw action in the internal fighting surrounding the October revolution and afterwards in the Russian Civil War. After 1918 some saw service in the Polish and Japanese armies. This vehicle proved itself to be extremely rugged. For specifications go the section on WW1. TANKS! does not know how the Poles came to own Russian vehicles, but it suspects these were aquired in either the Russian Civil War or the Polish Russian War as booty.

---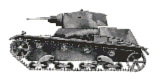 The experimental 4TP
The 4TP - a 4.3ton, two-man reconnaissance tank designed in 1936, with a turret offset to left. Only one prototype built, also based on the same chassis was an amphibious tank which never entered production.

---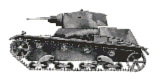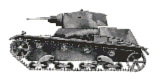 The 10TP
Wheel & Track fast tank 10TP weighed 12.8 tons, had Christie type suspension, was fitted with a V12 210hp engine, had 20mm thick armour and a 37mm gun. On test at the out break of war.

---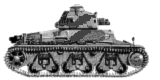 The Renault R35
Poland was equiped with a handful of these tanks.
The total number of Renault R35 tanks in Poland in 1939 is given by Rajmund Szubanski (one of the best sources to a subject of Polish tanks in September 1939 campaign) at 50. Renault R35 were mobilized as 21 Batalion Czolgów Lekkich (Battalion of Light Tanks) which counted 45 tanks. This unit did not see action in September of 1939 but was evacuated to Romania. From remaining R35 tanks and 3 Hotchkiss H35 tanks, which were in Poland for evaluation, an improvised company was formed. This company took part in battle at Kamionka Strumillowa on September 22, 1939, as a part of Group "Dubno". A Company from German 44 Infantry Division was attacked and defeated. Germans lost 87 prisoners and a ford at Bug River was gained.

---
(No picture possible)
The Medium tank 14TP

There were two tanks with this designation. The prototype was planned for year 1938 and production for 1940. Similar to the 10TP, the weight increased to 14 tons and was powered by a 300hp Maybach engine. The uncompleted prototype was destroyed.
Specifications
Weight
14 tons
Engine
8 cyl, 400hp (prototype 1)
12 cyl, 500hp (prototype 2)
Armor
10 - 30mm (prototype 1)
35 - 50mm (prototype 2)
Armament
37mm, 2 x MG (prototype 1)
47mm, 2 x MG (prototype 2)
---
(No picture)
The Heavy tank 20/25TP

A multi-turret design considered in 1936, but never built.
---


The Polish/German Panzer III
3 PzKpfW III Ausf. G were captured by the Carpathian Lancers in Egypt in 1941. All three were numbered consecutively 1 to 3. Shown here is vehicle number 2. All vehicles were used for training only.

---